Click On a County Below To Begin Your Search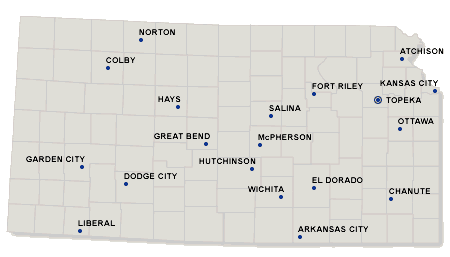 Buy Kansas Foreclosure Listings
The internet offers comprehensive Kansas Foreclosure listings; here you will find a complete list of all reprocessed homes available. To look into getting a foreclosed house is a good idea financially, as homes that have been reprocessed are usually sold at less than their actual value. This means that the buyer can use the extra money on furnishing the house or on other things.
The best place to go if you would like a list of bank foreclosures for such Kansas cities like Wichita or Topeka is online. Choosing a home in Kansas is a good idea, it is full of museums and zoos. Wichita is known for its Wichita Art Museum. Homes are available for between $39,000.00 and $143,900.00. Homes in Kansas City will cost you between $25,000 and $999,000.00. It is known for the Kansas City Zoo. This makes it the perfect place for families to settle. If you are interested in history then why not think about moving to Topeka, as it is the home of the Kansas Museum of History. Homes here are selling for between $40,000.00 and $525,000.00.
Moving is an incredibly daunting thought, but if it is in the best interest of your family, why not? Using a bank foreclosures listing site will help you in finding your dream home in your dream area.
Foreclosure1.com the #1 foreclosure listings service provides the most up-to-date Kansas foreclosure listings, government foreclosures and Kansas bank foreclosures. Try our foreclosure list service and find the best Kansas foreclosures. Join Now for the latest Kansas foreclosure listings.