Click On a County Below To Begin Your Search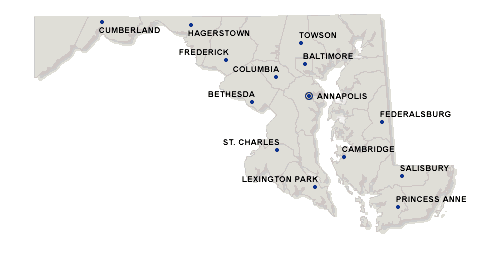 Buy Maryland Foreclosure Listings
Bank foreclosures in Maryland, something feared by many, also have its good points. The main one being, as a home buyer, you will pay less than the actual value on the house, you can actually save up to 40%. Banks are forced to do this in order to reclaim some of the monies spent on unpaid loans.
Maryland foreclosure listings can be found on the internet. Sites offer homes in cities such as Baltimore, Cumberland and Capitol Heights. All of these cities are found in different parts of Maryland and vary in the quality of homes available. Baltimore, for example, is located on the South East side. It is the largest city and is the cultural backbone of Maryland. Homes in this region vary from between $38,000.00 and $9,990,000.00. Located on the northwest side of Maryland, Cumberland is known for its natural beauty and hiking trails; and houses will cost between $29,000.00 and $71,250.00. Homes in Capitol Heights will set you back about $30,000.00 to $89,900.00, it is located in southern Maryland closer to the Washington, DC area. It is the home of the Apple Picking Festival. Maryland is one of the most beautiful and diverse states in Maryland with regard to its variety of beach front properties, rural town and urban area homes.
Foreclosure1.com the #1 foreclosure listings service provides the most up-to-date Maryland foreclosure listings, government foreclosures and Maryland bank foreclosures. Try our foreclosure list service and find the best Maryland foreclosures. Join Now for the latest Maryland foreclosure listings.